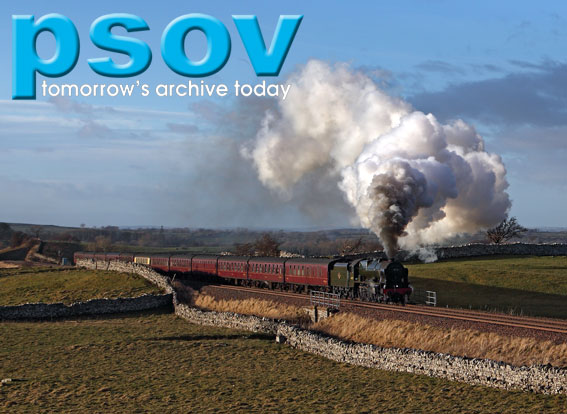 Welcome to PSOV, the UK's leading producer of contemporary main line steam action on DVD.

PSOV productions show British steam locomotives at their very best - storming through stunning landscapes, slogging up the most notorious climbs.

Commentary is minimal, the locomotives are allowed to speak for themselves, so these are programmes you will want to watch over and over again.

SHOP ON-LINE FROM THIS SECURE WEBSITE
OR BY PHONE ON 00 44 (0)1384 393562

Find us on



Lots of video clips to view online!
LATEST NEWS
SOME OF OUR PROGRAMMES ARE NOW AVAILABLE IN BLU-RAY. A WHOLE NEW EXPERIENCE!
MAINLINE 2016 Volume 1
Available from 11 July

See details

Order now
MAINLINE 2015 Volume 2


See details

Order now
MAINLINE 2015 Volume 1

See details

Buy online

Mainline: On The Footplate

A collection of six dvds dedicated to mainline footplate action.

All six available to buy as a collection or can be purchased separately.

See details

Buy online
6024 King Edward I
1990 - 2012



THREE DISC SET



7 hours 45 mins
total viewing time!

See details

Buy now